Authentically Arlington / Cultural Arts / Entertainment / Events / Learning / News
Aug 26, 2019
Investigative reporter Bob Woodward headlines UTA's 12th annual Maverick Speakers Series
The University of Texas at Arlington announced that Bob Woodward, legendary Pulitzer Prize-winning investigative journalist, will kick off the University's 12th annual Maverick Speakers Series next month.
[caption id="" align="img-wrapleft" width="320"]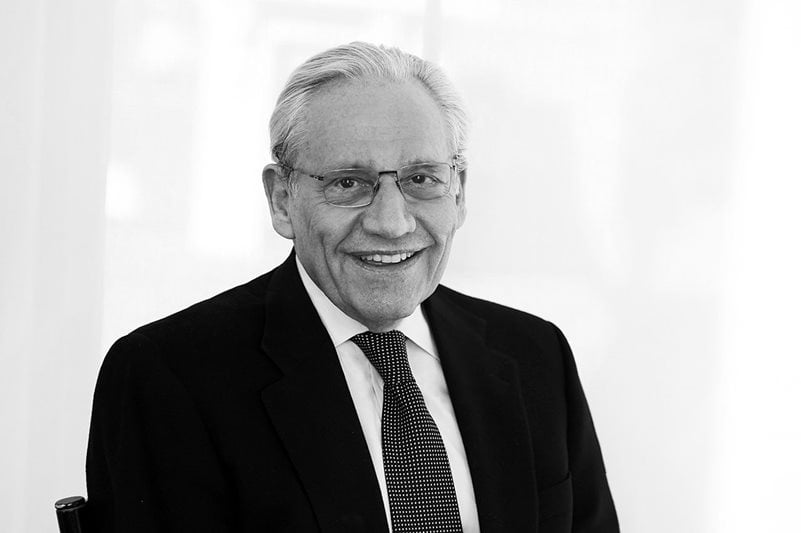 Bob Woodward[/caption]
In addition to Woodward, scheduled speakers include an educator and global thought-leader, a former United Nations ambassador, a Grammy- and Academy Award-winning artist, and a technology/innovation author and futurist.
Woodward will speak about "The State of the American Presidency" on Sept. 19 on the UTA campus in Downtown Arlington.
Woodward is an associate editor of The Washington Post, where he has worked since 1971. He has shared in two Pulitzer Prizes, the first in 1973 for his coverage of the Watergate scandal with Carl Bernstein, and the second in 2002 as the lead reporter for coverage of the 9/11 terrorist attacks.
Woodward's first book with Bernstein, All the President's Men, was about former President Richard Nixon and the Watergate scandal. The book was made into an award-winning movie.
He has since written 19 books on American politics, 13 of which topped bestseller lists, all while continuing his work for The Washington Post.
The lineup for the 2019-20 Maverick Speakers Series also includes:
Dr. Jackson Katz: The internationally renowned educator, author and global thought-leader will speak on "The Big Picture: Gender Violence in Historical, Cultural and Political Perspectives" on Oct. 24 at Texas Hall. Katz is known for his pioneering scholarship and activism on issues of gender, race and violence. He co-founded Mentors in Violence Prevention, one of the longest-running and most widely influential gender violence prevention programs in North America. Since 1997, he has run MVP Strategies, which provides training for gender violence and sexual harassment prevention.

Samantha Power: As U.S. ambassador to the United Nations from 2013-17, Power has become a global thinker and leading voice internationally for principled American engagement. She will speak on "The State of the World: Challenges and Opportunities" on Nov. 19. One of TIME's "100 Most Influential People," she has spent much of her career explaining complex geopolitical events as a Pulitzer Prize-winning author, war correspondent and Harvard professor. In 2017 she returned to teaching as the Anna Lindh Professor of Practice at Harvard Kennedy School and Harvard Law School.

Common: The Grammy- and Academy Award-winning artist and activist will entertain and inspire at College Park Center on Feb. 11, 2020. Besides his career as a leading hip-hop recording artist, Common also is an actor, film producer, poet and activist. He's renowned for his roles in films such as "Selma," "Barbershop" and "John Wick 2"; his lasting influence on hip-hop culture; and his recurring role in the Showtime series "The Chi," for which he also is executive producer. He won an NAACP Image Award for Outstanding Supporting Actor for his work in "Selma." The song "Glory," written and performed by Common and singer John Legend, won the award for Best Original Song at the 2015 Academy Awards and the Golden Globe Awards.

Vivek Wadhwa: The technology and innovation author, academic, futurist and entrepreneur will discuss "Navigating Technological Change at Light Speed" on March 26, 2020. Wadhwa is a Distinguished Fellow at Harvard Law School and Carnegie Mellon University's College of Engineering at Silicon Valley. He is the author of several books on technology, entrepreneurship and how the two subjects intersect. Wadhwa is a syndicated columnist for The Washington Post and has held appointments at Duke University, Stanford Law School, Emory University and Singularity University. Wadhwa is based in Silicon Valley and researches exponentially advancing technologies like robotics, artificial intelligence, computing, synthetic biology, 3D printing, medicine and nanomaterials. Before his career in academia, he was a technology executive known for pioneering change and innovation at various companies.
Visit utatickets.com for ticket information and uta.edu/maverickspeakers for special Maverick Speakers Series packages.
About the Maverick Speakers Series
The University of Texas at Arlington's Maverick Speakers Series provides a forum for today's brightest minds to examine the ideas, actions, solutions, and people that impact the world around us. These are thought-provoking conversations led by innovators who make change happen. The Maverick Speakers Series is about making a difference, one big idea at a time. That's what Mavericks do.